Blueberry Banana Pie | Raederle's Raw Recipe
This recipe will require soaking time ahead of time.
This is ideally made with a masticating juicer; a juicer that has the "mash" ability, using the "blank" attachment. If you don't have that, that's fine, you can still make this in the food processor.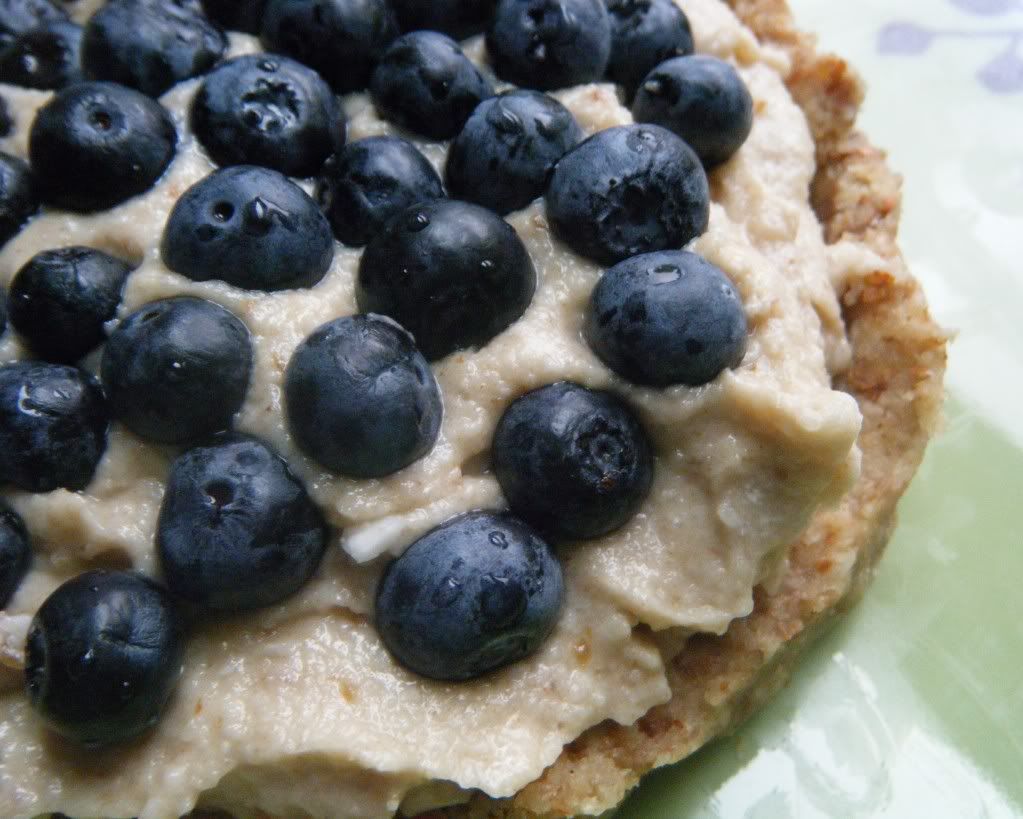 Blueberry Banana Pie
Crust:


1 cup almonds (raw, soaked, rinsed)
6 dates or ½ cup raisins
2 pinches nutmeg
2 pinches cinnamon
1 pinch sea salt

Filling:


1 cup macadamia nuts (raw, soaked, rinsed)
2 bananas (fresh or frozen)
2 pinches vanilla powder
1 pinch sea salt (optional)

Topping:


½ cup blueberries (washed, organic, fresh)
Directions:
Put macadamia nuts and almond nuts in separate containers and cover them each with drinking water.
Allow to soak for twelve hours, overnight, or for a minimum of four hours.
After soaking, rinse thoroughly with drinking water. Drying the nuts before use is optional.
If you have a masticating juicer:
Put dates through the juicer with the soaked almonds two or three times, stirring the mixture periodically during the process.
Add spices and salt and stir in with a spoon.
The reason to optimally use the mash setting on a juicer instead of a food processor is two fold. Firstly, there is the nutritional benefit of mashing instead of cutting. It preserves more enzyme content and nutrients. Second, there is a texture benefit to mashing instead of cutting. The mashing releases more oils from nuts, creating a creamier texture.
If you do not have a juicer with the mash ability:
Put dried fruit, almonds, spices and salt to your
food processor
and blend until consistent.
Next:
Spread the crust out on a plate and use your fingers to shape the edges upwards.
Optionally this can be placed in the dehydrator at 105°F or 110°F to firm a little as the filling is made.
Again, if you have a juicer with the mash ability, put the macadamia nuts and bananas together through that first, then stir in spices and salt. If not, put all ingredients together in the food processor and blend until consistent.
Then put the filling into your crust.
Top with blueberries, or the berry of the season.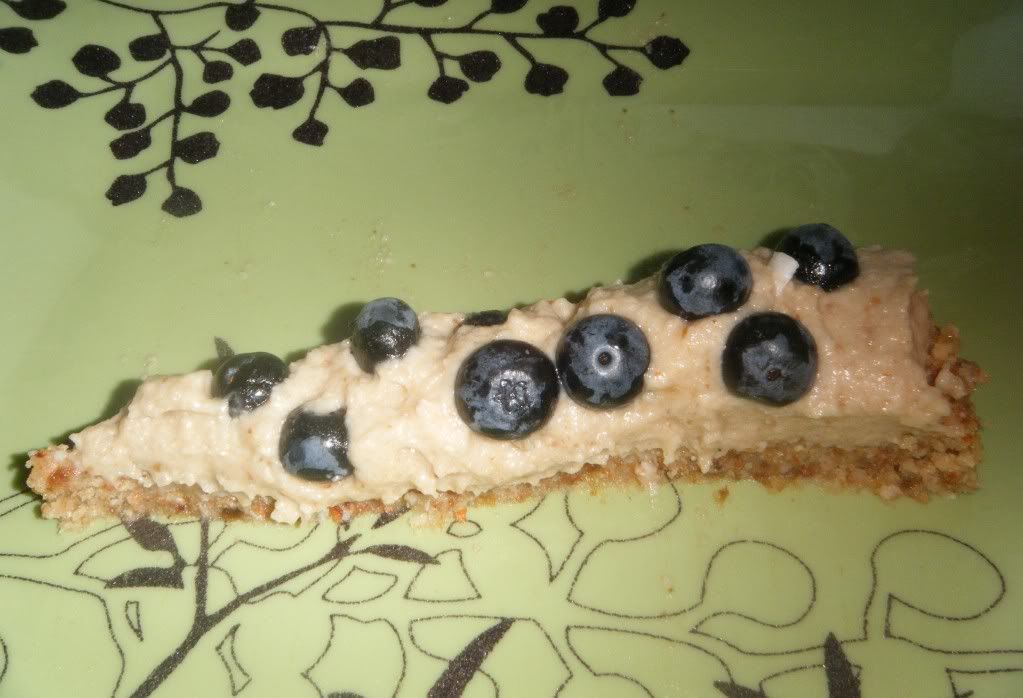 Thanks for reading.
~ Raederle Phoenix
PS: Don't forget to photograph your lovely creation!